Moving Cleaning
Whether you're moving across town or across the country, it can take weeks or even months to pack, organize, and unpack again. Cleaning is not something you want to worry about – either in the house you leave behind or (especially) in your new home when you arrive. So leave the cleaning to us! We serve most of Halifax, HRM, and the surrounding area including Sackville, Fairview, Hammonds Plains, Dartmouth, Cole Harbour, Fall River, East Hants, and Bedford Nova Scotia.
Moving in? Taking the time to clean before you move in saves headaches later.  Moving out? Leave your house or apartment clean for the next tenant or home owner – it's only fair.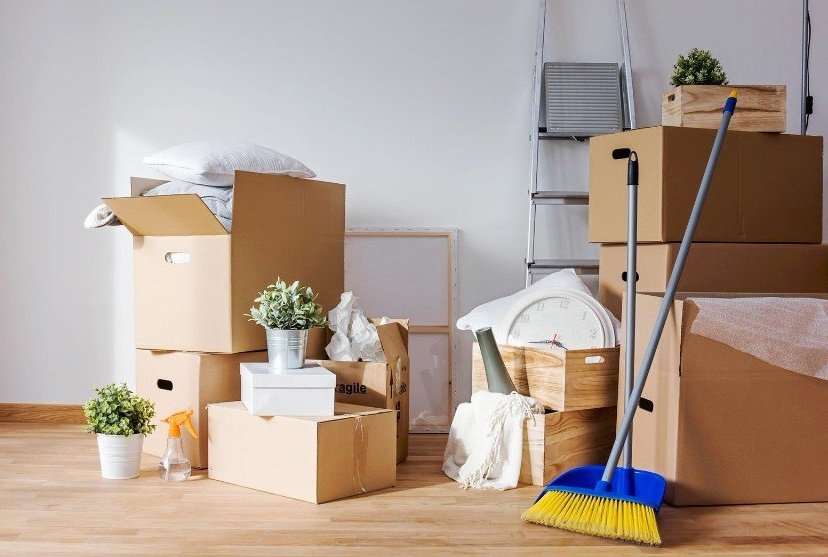 Moving Cleaning Checklist
All of our cleaning jobs are customized to your needs – and to your budget.
A moving cleaning typically includes:
Floors vacuumed throughout
Floors washed
Kitchen counter tops, sinks, stove top, oven inside and outside, sink
Kitchen and bathroom cupboards washing inside and out (and above if open to ceiling)
Mirrors cleaned
Toilets cleaned & sanitized
Bath, showers, tiles and shower doors cleaned
Light switches, outlets, door handles washed
Ceiling fans dusted and washed (where reachable)
Walls washed, and cleaned
Move-in or move-out cleaning may also include:
Cupboards washed inside and out
Drawers washed inside and out
Oven cleaned
Refrigerator washed
Closets wiped inside closets
Lighting fixtures dusted and cleaned
Washer and dryer wiped down and cleaned
We can also clean the windows if required! Note that while we're happy to do windows and even casings, it can add several hours to your cleaning job.
Moving Cleaning Services in Halifax HRM
There are many steps to move in cleaning, some of them unique to moving in or moving out. One of the key steps is to assess the condition of the house or apartment you are moving to or from. If your home has not had a good deep clean in some time, a good moving cleaning will likely take more time as giving a good clean to all surfaces will be necessary. For a thorough moving cleaning service, including things like cupboards and backsplashes, sideboards, mouldings, and frames, even walls and cabinets are usually a good idea.
Dusting is usually where we start with a moving cleaning. Dust doesn't just fall in one place, it falls everywhere, so a good moving clean should start high with dusting. We start high because we want any dust that falls to fall where we're going to clean, sweep, vacuum or mop after. There are some things that almost never get dusted in some homes like the tops of door frames and we look for those places during a moving clean.
Cleaning the outside and inside of appliances is of course always important. While doing a moving cleaning we give these special attention to make sure they are well done. We use mild but effective cleaners, sometimes a solution of water and white vinegar, which helps disinfect as it cleans. Also in the kitchen, the stovetop, oven, microwave inside and out, the dishwasher, and of course the sink, and countertops all are important and take time. During a moving cleaning with three people sometimes one person will spend the whole time in the kitchen. Kitchens are not just high traffic areas but because of cooking, they are exposed to very fine amounts of oils and other particles which over time can create a film over surfaces.
The oven is crucial in a moving cleaning and for a move we usually ask the homeowner to spray the oven the night before with easy off fume free cleaner. The fume free is much preferred since it is much less harsh but it still does the job.
Moving Clean Inside Cabinets
Cupboards and cabinet interiors don't get cleaned very often and can be forgotten which makes cleaning inside of cabinets during a move even more important. Kitchen cabinets, especially accumulate food debris, crumbs, oils, and bits of residue from food supplies, cereals, sauces, etc.
Scrubbing toilets, showers and bathtubs
Once we've finished vacuuming and dusting, we roll up our sleeves and do a deep clean on bathrooms. All toilets, showers, bathtubs and sinks need to be thoroughly cleaned. For newer fixtures, getting them to a 'like new' shine is our goal. In some cases, older fixtures may be stained but we make sure they are as clean as possible.
Bathroom cleaning is about disinfecting as well as clean looking surfaces. We use our own non-toxic bathroom cleaners and then follow up with an antibacterial spray to remove any lingering germs.
We do more during a moving cleaning than on a regular bathroom cleaning day including clean and sanitize the toilet paper holder and faucets, light switches and door handles.

Hard water stains can be a pain to get off of metal hardware like faucets and showerheads. We use special cleaners to break down hard water stains and make metal surfaces shine like new.

Pro Tip!: Even though it can be cleaned, when you move into a new house, you wouldn't want to keep the last residents old shower certain. Just as you would replace that, replacing the toilet seat is also a good idea. Toilet seats are not expensive and while they can be cleaned, having new toilet seats throughout the house can feel good and of course is very sanitary.
Cleaning Above and Beyond
After all clothing and accessories are gone, we wipe down closet shelves and rods, vacuum closet floors and clean any signs of debris that need it. The inside and outside of cabinets need to be cleaned with special attention to handles.
Finishing with the floors
: we start at the top, and finish at the bottom! We sweep or vacuum all surfaces, cleaning in corners and edges and under furniture if it's still in place. We finish by mopping, making sure to use cleaning products that are safe for your floor surfaces.

There are other overlooked surfaces to do during a moving cleaning such as the tops of doors, windows and window treatments, door frames and closet interiors. Giving most of these a good vacuuming will take away the dirt and dust, or we use a clean damp rag.

While a typical person cleaning their own home might use a few rags, on some cleaning jobs, and often on moving cleanings we can go through 50 or more clean cloth rags. Rags are so important and useful to us because they allow us to clean any surface and the rag picks up whatever dust, dirt, or grime there is and then we move on to another rag. By the end of a cleaning day we can have hundreds of rags to clean, which we do every night. We know of some cleaners that try to get the most out of each rag to avoid having to wash too many or do the washing too often. Our washing machines run every night, sometimes several times – like our team, they are the hardest working around!